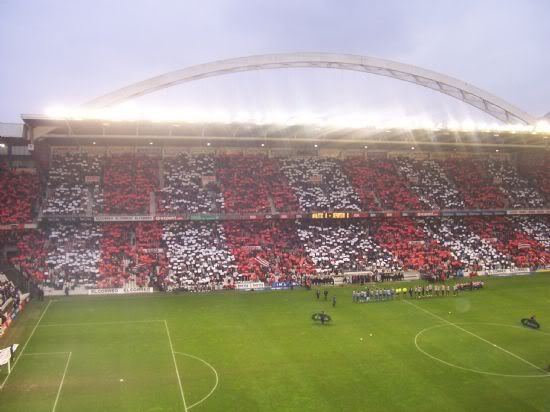 None of Atheltic Bilbao's starters yesterday came to Bilbao as a result of a blockbuster summer transfer prior to this season. Most of them are under the age of 25 and came into the first team through Bilbao's youth development system. All of the players are of Basque heritage.
Bielsa, Llorente, Munian, Martinez are names that will likely be on the tips of manager's and pundit's tongues as must have transfer targets for the "big" European clubs. Same with Tello, Cuenca, Samper and Dongou. While the Bilbao's and Barcelona's of the world patiently groom their next class of competent footballers to form the core of their teams, those clubs without such solid foundations will flail into the transfer market looking to poach the fruits of more confident, patient, and prescient clubs.
Bielsa's future may be the most interesting. "El Loco's" career moves over the years suggest that his footballing motivation is not fueled by striving to coach the club with the most prestige and access to the transfer market or that offers the biggest paycheck. His decision last summer to pass on the Inter Milan position in favor his current Bilbao post is evidence of what makes Bielsa tick.
When Bielsa joined Bilbao, he didn't demand big name transfers. Bilbao's historical football DNA—young, hard-working, devoted to youth development—was perfect for Bielsa's philosophy and tactics, despite the fact that Bilbao historically used direct tactics oriented towards service to the tall and technical striker Fernando Llorrente. Bielsa needs guys that are willing to keep an open mind and adapt and buy-in to his system and philosophy. Young, hard working players that are willing to learn and execute their roles within the system fit within the sum greater than parts philosophy and system Bielsa implements.
The core of Bilbao's team was in place prior to Bielsa's arrival. However, Bielsa's system and the successful and visible results it has produced will likely shoot Bilbao's profile into the stratosphere. The metaphorical halos around Bielsa and many of the Bilbao players will inevitably form and catch the eye of players, owners, and coaches throughout world football.
I'm referring to the "Halo Effect." The Halo Effect is sort of a catch all description of a human cognitive bias whereby an outside observer associates positive attributes or "goodness" with someone or something due to a easily observable appealing attribute of that person, thing or business.
The easiest and most common example of the Halo Effect is associating additional positive attributes (good judgment, reasoning etc…) due to a person's physical attractiveness i.e. so and so "just looks like a good President/leader." In business, the Halo Effect has been observed when analysts celebrate short term profitability or results of a company and proclaim it's exemplary leadership/structure/marketing but fail to recognize less visible and more nuanced factors that lead to long term results and sometimes decline.
The Halo Effect is a major factor in football analysis, particularly within the U.S.
The most obvious example of this are single game results and goal scoring. Results and individual goals scored are the most visible and easily quantifiable metrics within the game. They are also the easiest way for mediocre players and teams to create a halo of quality that covers up technical flaws and structural insufficiencies.
I believe the Halo Effect has been historically influential in player selection for our National Team and potential MLS signings, particularly with regards to European vs. Domestic/Mexican club status of players. European leagues are painted with a broad brush when it comes to assumptions of quality. There can be a flawed lack of differentiation when making an assessment of quality between La Liga, Serie A, or the Bundesliga and Scandinavian or Mediterranean leagues. Simply because a player is playing in Denmark or Greece does not mean that they are exposed to higher level of quality than domestic players.
The biggest elephant in the room on this topic is the Premier League. The salaries and exposure of the English Premier League are among the world's best. Yet quality within the league is inferior and waning with huge disparities in technical and coaching quality being revealed regularly at the international and European levels. One look at the state of the FA and the England coaching situation should give immediate pause to anyone who assumes unqualified distinctions of British superiority as compared to football's development and emergence in the U.S.
This brings me to the current state of the U.S. Men's National Team. In my last piece, I stated unequivocally that I believe the U-23 team that beat Mexico under Caleb Porter could have achieved a more convincing result against Italy than the Senior Team.
I received several responses and observed several others to the effect that the U-23 guys are too young or "unproven" to achieve better results than the current core of the Senior National Team. The gist is that a few years down the line, probably after this World Cup cycle, once these guys have matured and proven themselves at more "established" clubs, then they'll be ready to achieve the same quality as the current Senior National Team.
The fact that most of the Senior team roster members start or play regularly for established European clubs is used as a flawed Halo Effect proxy for a more sophisticated analysis and understanding of player quality and what qualities contribute to form a dominant team.
This is also prevalent within MLS which has adopted a fairly dysfunctional dual personality of claiming that the league's development is driving the quality of the USMNT while marooning many young players in favor of signing and playing foreign players from more established soccer nations in Europe or South America or preserving careers of veteran players without international exit options. It's no wonder MLS has a higher average player age than most teams in leagues that develop top talent.
To evolve as a footballing nation, we must raise our awareness to cut through the Halo Effect (and the other cognitive biases and misunderstandings that have dogged our development) to grasp what makes dominant footballing teams, such as Bielsa's Bilbao, successful.
In some cases, the Halo's are supported by the real deal of technical quality and philosophical foundation. Anyone who watched Bielsa's Chile during their successful 2010 World Cup run could see a near identical playing style as compared to current Bilbao under Bielsa. The thread between the two is Bielsa's obsessive understanding and playing philosophy and his unwavering commitment to develop and select a team and players that achieves his vision of how to dominate and "play on the opponents turf." Another common thread between Chile and Bilbao is that the players available came from a limited pool (Basque Origin with Bilbao, Total population of about 15 million with Chile).
What is telling is that many of Bielsa's players have gone on to visibility and success after successful runs with Bielsa coached teams. Most notably, Bielsa gave FC Barcelona and former Liverpool star Javier Mascherano his first Argentine senior national team appearance before making a first team appearance with his club team River Plate. Mascherano has since gone on to a hugely successful career for club and country. Mascherano's FCB teammate Alexis Sanchez joined Barca after Chile's successful run during the 2010 WC and reportedly after Bielsa's positive recommendation to Pep Guardiola regarding Sanchez' work ethic and personality.
The ability of a coach to see through the Halo Effect of a player's club situation to discern true quality is a hallmark of a coach with a fully formed philosophy and foundation. A coach who relies on confirmation of player quality through a seemingly favorable club situation is an indicator that they will likely fail to implement a discernible philosophy and system.
In the U.S., we must stop relying on coaches and teams "over there" as reliable indicators of our own development and progress as a footballing nation. I believe we are about to receive a significant shock to our perception as to what is immediately possible with U.S. bred players through Caleb Porter's U-23 National Team.
The performance that Porter is capable of inducing with his players could quickly put the names of Okugo, Kitchen, Corona and Agudelo on the tip of the world football tongue after qualification and the Olympic games. We are in uncharted territory with regards to having a coach with the ability to implement a philosophy on par with the world's best. Porter has shown that he has the ability to cut through all the noise that has held us back and produce a footballing product that can consistently compete with Spain, Germany, Argentina and Brazil. Every performance he puts together with the U-23s will knock down the strawmen and shatter the perception that we're still 10 or 15 years away from having players in top clubs and competing internationally with the best of the best. The best part is that it looks like he will largely do it with MLS players/players that were developed in the U.S.